May 29 rally at New York City Hall
Tenants of Fulton Houses approved a rally at New York City Hall to demand that New York City Council reäppropriate the $10 billion from the capital budget for new jails and instead redirect those monies to the New York City Housing Authority, or NYCHA.
Tenants are also calling for the New York City Council to hold hearing to establish a corporate income tax for corporations of a certain size that operate in New York City.
R.S.V.P.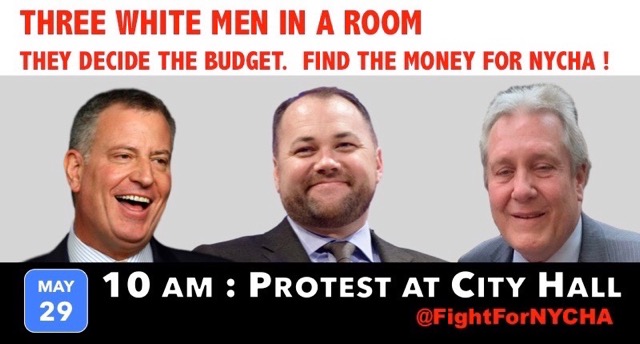 Since NYCHA is comprised of 90% Black and Latinx families, this means that the politicians are making a political calculation that they can exploit the very visible minorities, who are public housing tenants.
Politicians supporting the plans announced by Mayor de Blasio to demolish public housing apartment buildings and to put public housing into the hands of private landlords, are keeping quiet about the racial implications of their actions or support. This is wrong.
A corporation tax would be progressive way to fund public housing.
New York City is the financial capital of the world. There is so much money here, and yet the largest Corporations pay very little in taxes, if any at all. Amazon made $11 billion in 2018, but it paid $0 in U.S. Federal Income Taxes. Other major Corporations keep profits overseas so they don't have to report cash as profits to the Government. As of two years ago, Apple was keeping over $200 billion in cash overseas to evade U.S. taxes. Last year, Google had about $60 billion in cash it was keeping overseas to evade U.S. taxes.
New York City already collects a Business Corporation Tax that ranges from about 4 per cent. to 10 per cent. However, New York City caps the tax at $10 million. This means that the most wealthiest of Corporations are not paying their fair share. This violates the principle that people making the most money — at the tippy, tippy tops — need to pay more money in taxes the more money that they make. This is what is called a progressive income tax. New York City can raise the money NYCHA needs by extending the idea of a progressive income tax to Corporations.
The need to pressure City officials stems from AOC's controversial decision to turn her back on NYCHA.
The need to pressure the Mayor and the City Council for the money to preserve and expand public housing follows the controversial decision by the office of U.S. Rep. Alexandria Ocasio-Cortez (D-NY 14) to reject a request to sponsor a budget resolution this year for all $32 billion that NYCHA needs. Randy Abreu is a policy advisor on staff to U.S. Rep. Ocasio-Cortez.