Join NYCHA tenants and activists, who are protesting Acting U.S. Attorney Audrey (the "Queen of Mean") Strauss, who is countenancing the horrifying conditions at NYCHA. Even though Mayor Bill de Blasio (WFP-New York City) has breached the HUD Settlement Agreement, Audrey Strauss does nothing about it.
Well, not anymore.
We will be sleeping for one night outside of the do-nothing Acting U.S. Attorney's office. During the night, we will plan how to participate in a #GeneralStrike. We hope our actions will compel Audrey Strauss to do the right thing and to force the mayor to begin depositing money with the U.S. District Court that will begin to pay for long-over due repairs at NYCHA, beginning with a plan to upgrade all heat this winter.
Former U.S. Attorney Preet Bharara began the Federal investigation in NYCHA to bring about justice for public housing residents. And here comes along Audrey Strauss, and she's willing to let Preet Bharara's work lapse under more neglect. This represents a breach of public trust.
For our protest, not everybody needs to sleep outside with us. Anybody can join us for a meeting beginning that evening at 6 pm.
For those willing to spend the night with us outside, please bring a sleeping bag, some toiletries, and whatever food or water you may need.
Join us for a planning meeting on Wednesday, Sept. 9, so we can prepare for our sleep-out protest.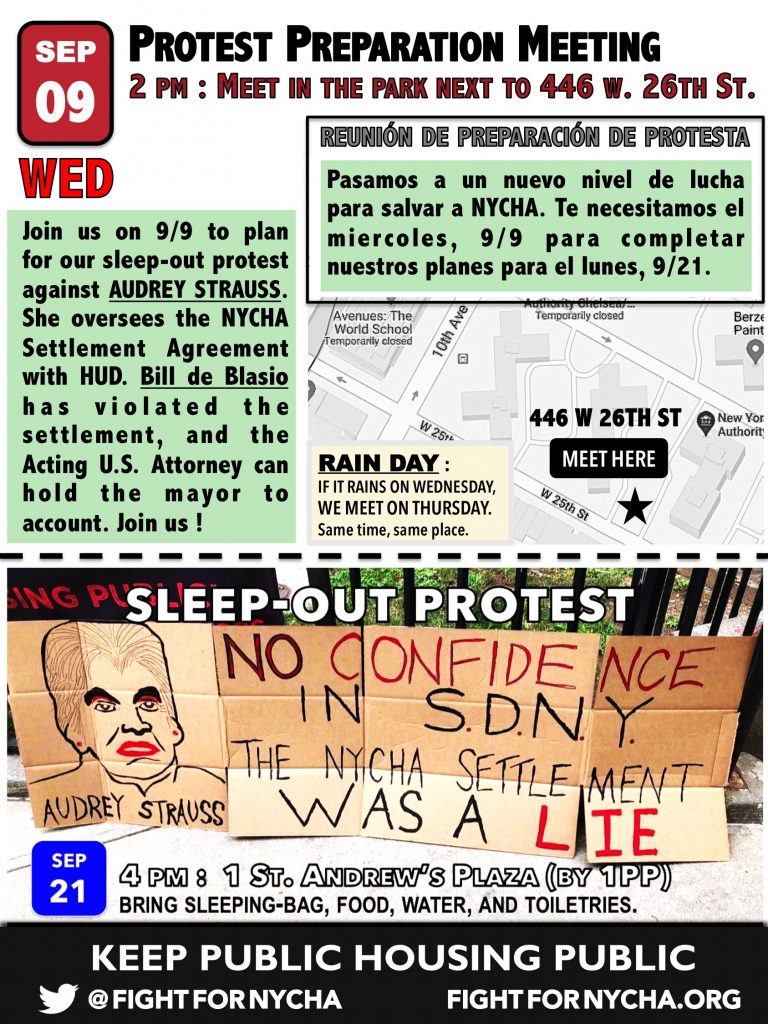 R.S.V.P. to our Sleep-out Protest