LGBTQ politicians came to power based on their experience of discrimination, but they have done nothing to end discrimination for all oppressed people.
Austerity leads to racism
There is a convergence in the betrayal of public housing with the Coronavirus pandemic. Hospital closings led to disparities in healthcare outcomes, as we have seen during the Coronavirus outbreak. The refrigerator trucks are a sign that austerity leads to racism. Now, NYCHA residents are being used as guinea pigs for testing and contact tracing in order for politicians to dangerously fast-track the reopening of the economy.
Fight For NYCHA targeting some politicians, who claim to experience oppression, but who have done nothing to end racism or austerity. We visited the apartment houses of : Christine Quinn, Corey Johnson, Deborah Glick, and Brad Hoylman — each of whom had a role in the closing and luxury condo conversion of the old St. Vincent's Hospital. They thought nothing of taking away a safety net hospital from us, and they have done nothing to fight austerity or racism, as evidenced by how public housing has been neglected on their watch — and in their own district.
Contact Tracing poses risks to NYCHA tenants. Fight For NYCHA demands HRA Rent Vouchers for All.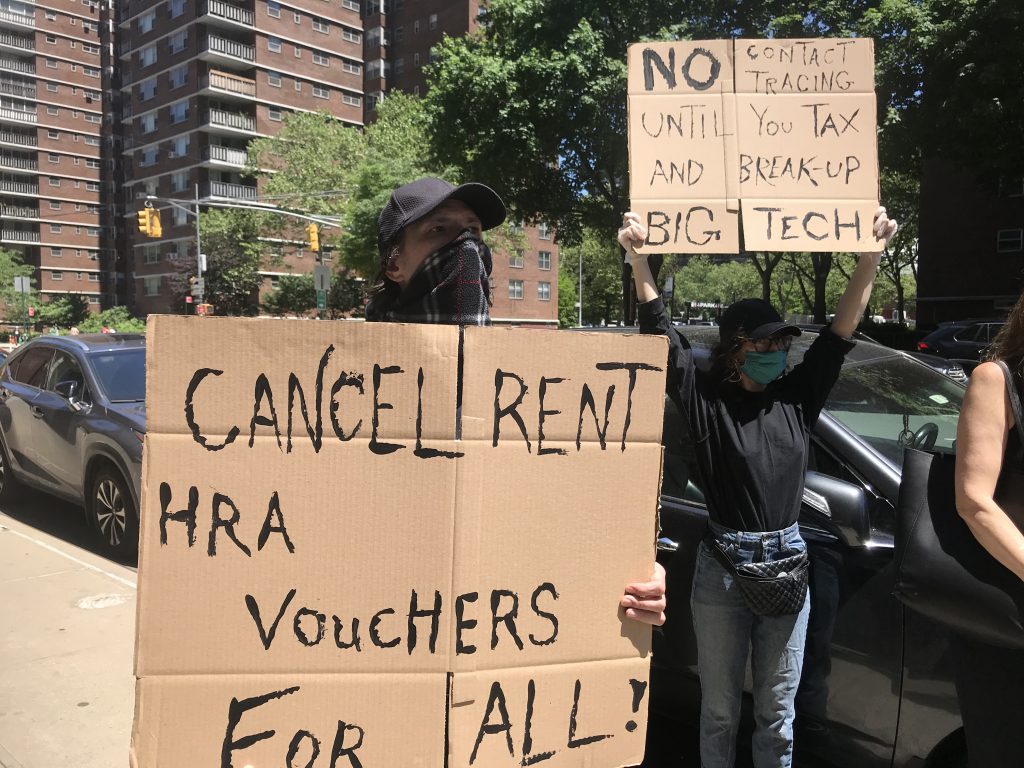 The political and media fallout : "Willful ignorance," silence, and distraction
Quinn, Johnson, and Glick chose to ignore our protest, with Quinn's doorman videotaping our protest outside her million-dollar luxury condo. Quinn gets paid $500,000 a year as the ringleader of a poverty nonprofit that skims money off of homeless shelters. A kind of a new age, "transformational" Madame Thénardier.
For his part, Hoylman addressed Albany red tape on hospital closes but refused to address the pinkwashing by the LGBTQ White CIS power establishment of racism. But we made him nervous, and he took to Twitter that very same night and, for the first time in his career, tweeted the hashtag #BlackLivesMatter.
Pinkwashing means that the LGBTQ politicians in Chelsea and the West Village have exploited their experience of discrimination for political power without uplifting POC.